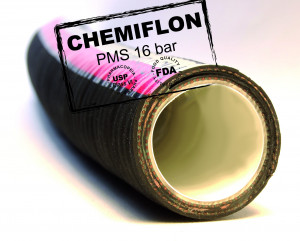 CHEMIFLON




Flexible hoses

> CHEMIFLON
Total security transfers suction, discharge and filling
ATEX certified by INERIS.

Hose for suction and discharge for the transfer of chemicals, solvents and most aggressive pure alcohol.

Protected by a patent tube CHEMIFLON has an inner sleeve made of extruded fluoropolymer of the last generation with exceptional resistance to oxidation, temperature and deformation usually caused by constant use dynamic loading. It is extremely smooth inner liner and a waterproof incomparable with other fluoropolymers.
Technical informations :
Inner tube:
White glossy sheath MFA MIRROR approved USP CLASS VI and FDA 23. Resistant to high temperatures, stress cracking, the repeated bending and oxidation.

Reinforcement:
High strength synthetic textile, metal coil and copper braids.

Siding:
Black antistatic EPDM with a marking band bicolor red and white longitudinal. UV resistant and abrasion.

Temperature:
-50 ° C to +170 ° C (depending on the nature of the products transferred)