Flexible hoses

> DYNAMIC SAFE-TECH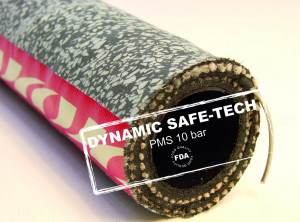 DYNAMIC SAFE-TECH



Maximum security for the transfer of flammable
This hose is ATEX certified by INERIS

Ensures the dissipation of electrostatic charges, not only the surface but also through the wall. Inner sleeve, ultra smooth PFA last generation, providing the highest degree of impermeability, the best mechanical strength for use in dynamic conditions of hygiene.
Technical informations :
Inner tube:
PFA (Fluorinated Polymer Alkoxy) MIRROR gloss black. Antistatic, approved USP CLASS VI and FDA, as 21P.177.1550. Exceptional resistance to repeated bending of cyles (according to ASTM D2176). Universal chemical resistance.

Reinforcement:
High-strength textile braid, spiral and metal grounding straps for dissipating static electricity.

Siding:
Patented color mottled totally smooth and slippery, non-marking which guarantees:
 
    

Dissipation

of

static electricity

.

    

The

abrasion resistance

according to ISO

6945

and

2006

SAEJ

.

    

A

low coefficient

of friction

dramatically improving

handling

flexible

especially when the

pipe

is full

.

    

The best

chemical resistance

in case

of accidental contact

with harsh substances

.

    

Food quality

to FDA

as

2600

P.177
Temperature:
-40 ° C to +150 ° C (depending on the product and transferred its concentration). Dynamic use of 10 ° C to +60 ° C. Sterilization, 164 ° C for 20 minutes.