Flexible hoses

> FLEXIMUM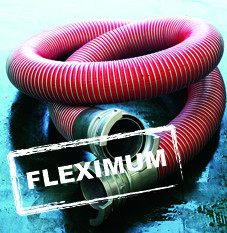 FLEXIMUM
Suction and discharge of chemicals and hydrocarbons.
The pipe "Fleximum" is particularly well suited to the suction and discharge of OIL and other aggressive chemical industry.

It can be supplied with an ADR certificate.
Technical informations :
The wall consists of several superimposed layers of polyethylene film. To resist chemicals
more aggressive the inner layers can be made of PTFE.
The turns of internal reinforcement can be made ​​of different materials always in the same order to withstand the most Aggressive products:
Inner turn: galvanized steel, polypropylene coated steel or stainless steel.
Outer turn: galvanized or stainless steel.
Temperature:
-70 ° C to +110 ° C (special request for cryogenics).
Pressure:
10 bars PMS - PMS 16 bar on request.