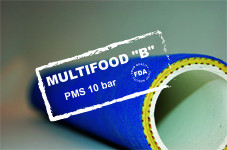 MULTIFOOD B


Flexible hoses

> MULTIFOOD B
Suction and discharge of any food product - Free of release
Very flexible and robust nature characterized by its particularly smooth inner tube and completely waterproof.

The Multifood B transfers including high temperature while thick or delicate food and any beverage with alcohol containing 96%.
Standards and Approvals: European Union regulations CE n ° 1935/2004
Technical informations :
Inner tube:
Butyl rubber white (FDA approved), smooth, glossy MIRROR. Resistant to animal and vegetable fats, detergents and common disinfectants.

Reinforcement:
Two spirals steel embedded in the wall and high-strength synthetic textile.

Siding:
EPDM rubber, canvas side, blue with white longitudinal markings. Resistant to abrasion, ozone, weather, oils, detergents and all common disinfectants. Odorless and tasteless.

Temperature:
-40 ° C to + 120 ° C, peak at 130 ° C in the vapor phase (open circuit) for 1/2 hour maximum.