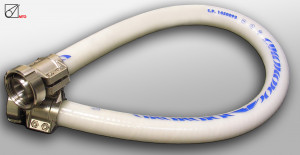 SILIX CLEANROOM PFA




Flexible hoses

> SILIX CLEANROOM PFA

Universal hose designed for suction and / or removal of liquid from the purest pharmaceutical, cosmetic, food, chemical or aseptic area. This pipe combines the technical benefits of the PFA with the elasticity and heat resistance of silicone. This type of hose has high flexibility at low or high temperature and can work dynamically.
Technical informations :
Inner tube:
PFA (fluoropolymer alkoxy) white, glossy mirror, odorless approved USP 23 Class VI, FDA (P1771550) & FDC Act 21 title.

Reinforcement:
+ 304L spiral polyester tablecloths drowned.

Siding:
Non-toxic translucent silicone for ease of cleaning according to the FDA (21 CFR item 1772600), USP Class IV and ED P.3.1.9.
Temperature:

-30 ° C to +150 ° C