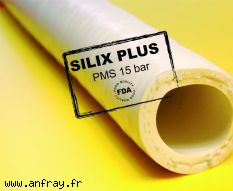 SILIX PLUS


Flexible hoses

> SILIX PLUS
Vacuum transfer and discharge
Very flexible food grade silicone tasteless and odorless. Designed for the transfer of any food, cosmetics and pharmaceuticals requiring high elasticity and resistance to vibration.

The SILIX PLUS is suitable for both suction outlet that for all these applications. In process or in cleaning up to 180 °C.

Caution, it is not suitable for transfer of products containing traces silicone.
Technical informations :
Inner tube:
Silicone white, smooth, tasteless, odorless and food quality.

Reinforcement:
Synthetic textile reinforcement in high density polyester and a spiral steel drowned.

Siding:
Silicone white with a smooth blue marking longitudinal quality food.

Temperature:
-60 ° C to 180 ° C, steam sterilization at 130 ° C to 180 ° C (hot air) to a maximum of one half hour.

Caution: repeated sterilization in less than an hour apart may irreparably damage the structure of the hose !