> SICHEM S50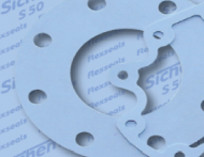 SICHEM S50
Sichem S50 is a product of the family of modified PTFE, highly compressible due to micro glass spheres that compose it.
Sichem S50 is ideal for delicate connections and wherever the low torques are required. It greatly reduces the problems of loss of clamping and cold flow.
Sichem S50 provides high chemical resistance and superior performance with PTFE seals.
Sichem S50 is particularly suitable for sulfuric acid.
Technical informations :
Is used in industry such as chemical, petrochemical, food, pharmaceutical ...