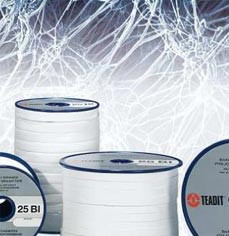 TEADIT 25BI
> TEADIT 25BI
A complex molecular structure, strength and plasticity combining singular simplicity of installation and use non-standard indications.
Technical informations :
Ribbons of 10to 65 mm wide.
Color: White
Thickness: 2 to 6 mm
Temperature: -240 ° C to +270 ° C
Chemical Resistance: Resistant to all chemicals (pH 0-14) with the exception of molten alkali metals or dissolved and elemental fluorine at high temperature and pressure.
Pressure: Vacuum to 200 Accepts Drinking