> TEADIT MONOTAPE 12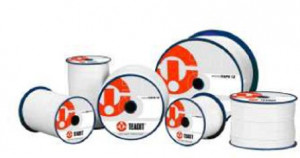 TEADIT MONOTAPE 12
Teadit Monotape 12 is made ​​from pure expanded PTFE. The manufacturing process is subjected to quality controls, which is recorded in our DIN EN ISO 9001.
Technical informations :
Extremely soft and pliable, it offers excellent thermal and chemical resistance, it can be used in all types of industries. Its excellent chemical compatibility (pH 0-14) promotes its use on most media. Its exceptional malleability allows use in all seals or low clamping pressures are required, flanges enamelled glass clamps, flanges or valves PTFE, PVDF ... All these features make TEADIT 2007 one of the most used tapes on the market.